Congratulations to Rudds Consulting Engineers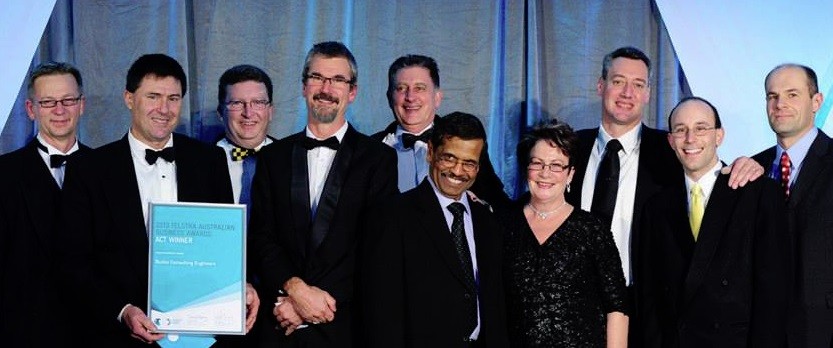 Date

16 July 2013 10:50p.m.

Category
Our valued client Rudds Consulting Engineers have won the 2013 Telstra ACT Business of the Year Award. The ACT Minister for Education and Training, Joy Burch MLA presented the award to Rudds Consulting Engineers with Group Managing Director, Telstra Business and Telstra Business Awards Ambassador, Will Irving. Rudds also collected the 2013 Telstra ACT Medium Business Award.

The Telstra Australian Business Awards are prestigious and coveted, celebrating Australia's entrepreneurs and innovators. The awards offer a unique chance for small to medium businesses to be recognised for their hard work, commitment and success. Rudds were previously finalists in the 2008 Telstra Business Awards.
Nominees are judged on all aspects of their business, including web presence. Rudds approached Praxis Interactive in late 2012 with a view to re-developing their site with a fresh new responsive design to cater for traditional browsers, smartphones and tablets. A custom project database was also developed to manage their growing portfolio, with both a back-end management interface and a portfolio of selected projects viewable on the public site.
Praxis Interactive worked with Rudds to quickly design and implement the new web presence and project database, and successfully launched the redeveloped site before the cut-off date for the Telstra Business Awards review process. You can read more about our work for Rudds in our portfolio.
We congratulate Rudds Consulting Engineers on their well-deserved accolades, and wish them continued success for the future!